Why Chiropractic Adjustments Help Kids With Chronic Ear Infections
Why Chiropractic Adjustments Help Kids with Chronic Ear Infections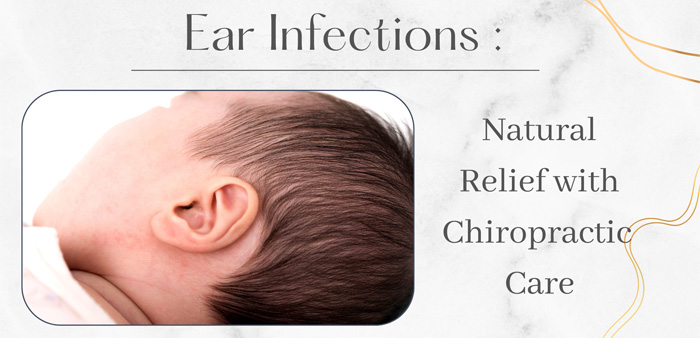 Did you struggle with ear infections as a kid? Or do your children seem to have one after another? Any family who has dealt with recurring cases of otitis media will tell you that they can cause major problems for hearing, behavior and even learning delays. The good news is there's a natural option for real healing: chiropractic! How can spinal adjustments help with ear infections in Chanhassen MN? Read on!
---
Ear Infections and Chiropractic in Chanhassen MN: How are they related?
Although it may sound unorthodox chiropractic has actually been shown to help with ear infections,especially in children. There are two ways it supports the body.
Chiropractic optimizes the position of the ear canal for proper drainage, promoting healing and preventing recurring infection.
The nervous system must be working correctly for optimal healing. Chiropractic removes interferences.
First, children's ear canals are naturally a more horizontal shape. Because of this, the middle ear doesnt always drain properly. This dark, moist environment can become a breeding ground for bacteria. An adjustment biomechanically helps drainage.
Second, chiropractic allows the body to innately heal itself by normalizing spinal function. Chiropractic is effective and naturally beneficial for all ages.
When the body is dealing with an infection, it immediately starts to fight it so that it can heal. But when the spine is compressing a nerve, the central nervous system is unable to communicate as effectively.
This can lead to chronic, recurrent infections that can be extremely painful and disruptive to daily life and sleeping patterns.
By getting spinal adjustments, the joints of the spine are able to function correctly to allow easy communication between the brain and the ear.
Chiropractic is also a safe alternative to antibiotics, which can harm the body's natural balance of friendly bacteria, leading to more serious infections.
---
Chiropractic Studies and Cases
Chiropractors and researchers are constantly studying and publishing cases to evaluate the effectiveness of chiropractic. These studies show that ear health and ear infections are significantly improved from spinal adjustments.
A cohort study in Minneapolis took 46 children under the age of 5 and treated them with chiropractic for their ear infections. Treatments started at three times per week. After three weeks, 93% of cases were improved enough that there was no fever present, no ear pain, and the children were completely asymptomatic.
This study concluded that chiropractic care and limited medic intervention can decrease the symptoms of ear infections in young children.
A case study in the Journal of Pediatric, Maternal, & Family Health Chiropractic described a 28-month-old boy who presented with ear infections, balancing problems, and a rash that had been persistent since the boy was a year old.
Chiropractic adjustments were used over 3 months for a total of 27 visits. At the child's reassessment, the rash was gone, ear infections resolved, and his balance significantly improved. Over the next three years, the boy continued to improve and only experienced one eczema outbreak.
Another study of ear infections in children followed the case of a one-year old infant who had chronic, recurrent, bilateral ear infections. This child was suffering from ear infections that extremely affected their sleeping, and overall attitude. Over 6 weeks, the infant was adjusted 1-2 times a week for a total of 9 times. After this period, the infant no longer had any ear infections.
No longer struggling with chronic ear infections allowed these children (and many others!) to thrive.
Even if your child has never been diagnosed with otitis media, regular chiropractic is a great way to ensure both proper drainage and nerve function to favorise healthy ears and prevent any problems. Many chiro kids have never had an ear infection at all!
What our patients say…
"My experience with Everhealth Chiropractor has been simply amazing. As a medical doctor I would say I was an initial skeptic and doubtful about the benefits of chiropractic therapy but I am so glad I gave it a try!
My constant headaches and back pain are almost totally gone and don't t cripple my day to day anymore. Dr Bethany herself is such a patient person, always willing to explain each step of the adjustment and answer questions.
She is always willing to accommodate my family and I with our busy schedules which for us is a big deal!
I highly recommend Everhealth Chiropractic, give them a shot like I did and you will be surely glad you did."
Rashedat O.
Have questions or are you ready to get have your children examined? Dr. Bethany Curnow offers excellent, compassionate chiropractic care for health-minded families, active athletes and buys professionals at EverHealth Chiropractic in Chanhassen, Minnesota. Click here to schedule an appointment or free consultation.
---
References:
OFFICE HOURS
Monday
9:30am - 12:00pm
3:00pm - 6:00pm
---
Tuesday
3:00pm - 6:00pm
---
Wednesday
9:30am - 12:00pm
3:00pm - 6:00pm
---
Thursday
9:30am - 12:00pm
3:00pm - 6:00pm
---
Friday
9:30am - 12:00pm

---
Saturday
Closed